RECYCLE YOUR BOOTS
TECNICA IS LAUNCHING THE RECYCLE YOUR BOOTS CAMPAIGN TO MAKE CIRCULAR ECONOMY THE NEW BUSINESS MODEL FOR THE SKI INDUSTRY. THE COLLECTING AND RECYCLING INITIATIVE HAS BEEN ADOPTED BY THE LIFE PROGRAMME –THE EU'S FUNDING INSTRUMENT FOR THE ENVIRONMENT AND CLIMATE ACTION – AND WILL BE EFFECTIVE ACROSS EIGHT EUROPEAN COUNTRIES AS EARLY AS THIS WINTER SEASON.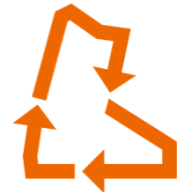 HOW DOES IT WORK?
What happens to your old ski boots, after you left them in the shop?
TRANSPORTATION
The old ski boots are carried to the Collection Center in Italy using reduced environmental impact vehicles. We have a dedicated transportation plan, with the objective of reducing the number of collections to a minimum and optimize the routes to prevent any useless travel.
DISMANTLING
Every ski boot is made of 120 components, 70 of which are in the liner. Once the ski boots get to the Collection Center, liners are removed and then plastic and metal components are separated from each other and moved to the transformation center.
TRANSFORMATION
Those 120 components, after being pre-selected and separated, are shredded, and then washed. Metals are divided into ferrous and non-ferrous materials while plastics between polyurethane and polypropylene. The purpose of obtaining second generation materials is that of using less natural resources.
WHAT DO WE GET?
In the end, what is left of the ski boot?
Little grains of plastic and a pile of aluminum, ready to be recast and reused in industrial productions.
REGENERATION
Metals that come out of this transformation process are then pushed back in the market to make new ski boot buckles as well as for other applications, such as bicycle frames, structural elements, beverage cans, etc.
For what concerns plastics parts, we regenerate two types: polypropylene (PP) and thermoplastic polyurethane (TPU).
Our PP granules are used to make new office chairs, garden furniture, flooring, containers, avoiding the production of virgin PP through carbon fossil fuels, therefore saving CO2 emissions.
TPU is used in the world of both sports and traditional footwear: soles, inserts, buttresses and wedges.
A part of this plastic material is used directly in some components of the new ski boots of our brands.
For example, in the wedges inside the shells, in the reinforcements of the cuffs, in soles' heels and toes and in the rear spoilers.
We are studying several possible applications for liners as well, such as for the production of new protection mattresses to be used on the slopes of ski resorts.
BE PART OF
THE SOLUTION
1
BRING YOUR OLD PAIR OF SKI BOOTS, OF ANY BRAND, TO ONE OF OUR RYB DEALERS
2
BUY A NEW PAIR OF TECNICA'S SKI BOOTS
3
REGISTER TO STAY ENGAGED WITH THE PROJECT AND SUPPORT THE CAUSE
It's easy to get tricked into thinking that nothing we do as persons will make a change. That's wrong.
We, as skiers and end consumers, must do our best to defend and preserve the world we are connected to.
Our industry is the ski industry, and we are going to start here.